PROJECT DATA
Owner:
Roundabout Theatre Company
Type:
Broadway Theatre
Scope:
Schematic Design/Phase 1
Features:
Creative Restoration Plan
Cost:
$1,000,000
After using the original Gallo Opera House theatre space for their production of "Cabaret", the Roundabout Theatre Company opted to purchase the infamous Studio 54 as a venue to house future musical productions. FRA was retained to assess the facility and propose designs for future restoration. The first phase of remedial work, consisting of repairs to the roof, stage systems, fire escapes and terrazzo flooring, has been completed.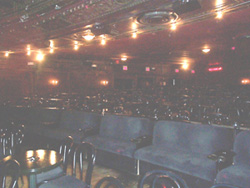 Existing Conditions